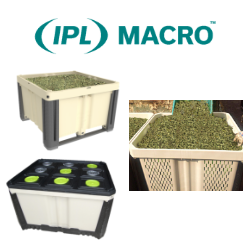 Summary:
Manufacturer of plastic containers designed for the hemp harvesting and processing
IPL Macro produce a range of harvest, storage and processing bins designed specifically for the hemp industry.
Harvest: Ventilated IPL Macro bins are ideal for both tough harvests & delicate harvests; we offer a variety of tall & shallow harvest bins to transport your cannabis and hemp crop safely from the field to processing. Fully ventilated, harvest bins are optimized for air flow but can also be custom ventilated to fit your hemp and cannabis drying equipment or applications; ask us about how we can fit your drying needs! Hand-held totes can nest efficiently within our MacroBins or collapse for efficient storage while offering the same great product protection and attributes as our bulk bins.
Stackable when filled and nestable when not in use, our bins are also fully compatible with standard agriculture harvesting equipment, fork lifts and hand trucks.
Storage: Offering a variety of sizes, IPL Macro bins are designed to stack vertically inside your warehouse (with or without lids) to optimize your available space. Compared to non-stackable solutions, IPL Macro bins are superior in increasing your overall efficiencies within facility optimization, labor savings & material handling.
To help preserve and protect your cannabis or hemp product, we offer a range of lids which can be waterproof, airtight, or "atmosphere controlled".
Our storage bins are optimal for washing, re-use, and empty storage to complete a sustainable & consistent supply chain loop with your operation.
Curing: Consistantly extend the life and quality of your product with IPL Macro's Atmostphere Control Bin!
Partnering with JMT's innovative lid technology, our Atmosphere Control Bin controls the O2, CO2, and humidity levels inside the container to allow for efficient and consistent curing of your hemp or cannabis. With ability to burp while stacked together, these bins will increase your storage capacity while eliminating the costs to control the climate inside your facility.