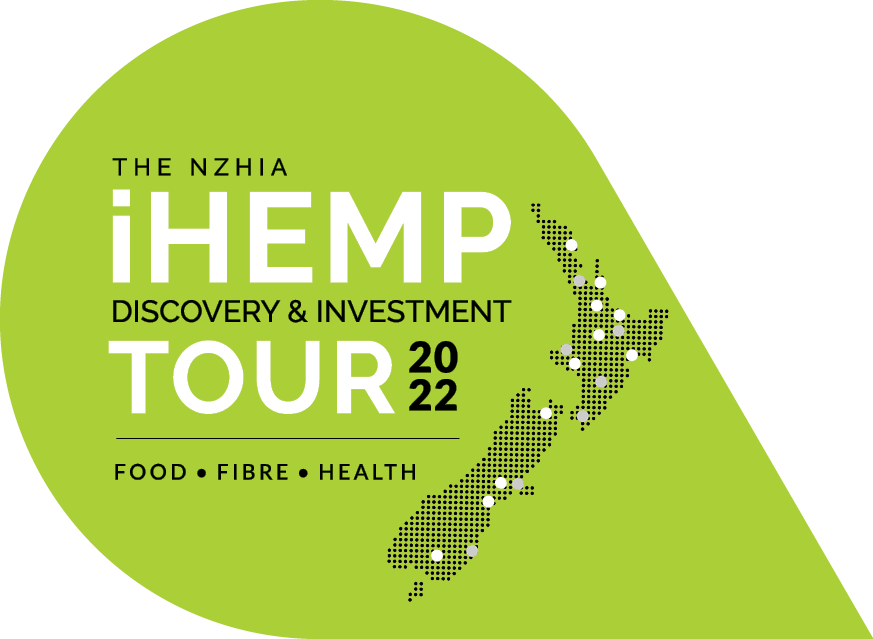 Welcome to the home page for the NZHIA iHemp Discovery & Investment Tour 2022
This pioneering industry is on the edge of incredible growth. We're looking for farmers, growers, entrepreneurs and businesses who want to discover how to invest, upskill and become part of Aotearoa New Zealand's next billion-dollar industry.
Our aim is to help build a collaborative network to enable scaled growth of this emerging industry, across a number of sectors, by providing information and direction that will encourage 'light bulb' moments, to show attendees how to incorporate iHemp into their business plans. To achieve this network, of connected community-based individuals and businesses, we are doing a nationwide roadshow "The NZHIA iHemp Discovery & Investment Tour 2022".
Commencing in June 2022, the Tour will travel from Whangārei to Gore hosting in town halls, universities and smaller hui and workshops, with the specific outcome of developing a community of interested people across the farming, food, fibre and health sectors.
Tour Programme – What can hemp do for you?

Speakers – Key presenters at each location
Our keynote speakers for each location will be revealed shortly.
Tour Schedule – Locations across Aotearoa New Zealand
The tour will be separated into two categories of meetings, for the full event listing of Town Hall meetings please see: https://events.humanitix.com/tours/the-nzhia-discovery-and-investment-tour.
Hui with Iwi/Maori land trust and stakeholders, Universities, EDA's and council network meetings and presentations
Hosted daytime meetings with in-person and online options. Venue and speaker details to be confirmed.
---
9 June 2022 Northland Hui
16 June 2022 SCION
29 June 2022 Massey University
1 July 2022 Venture Taranaki
6 July 2022 Waikato University
7 July 2022 Auckland University
8 July 2022 Callaghan Innovation
12 July 2022 Lincoln University
14 July 2022 Venture Timaru
15 July 2022 Otago University
19 July 2022 Great South
Regional town hall events provide a chance to hear from keynote speakers, network, and connect with key stakeholders
Evening meetings from 7:00pm to 10:00pm, with in-person and online options.Venue and speaker details to be confirmed.
---
8 June 2022 Whangārei: Optimising use of Māori freehold land
15 June 2022 Tokorora: Big business in southern Waikato
28 June 2022 CHB: Creating growth partnerships in the hemp industry
30 June 2022 Hāwera: Working together to build local industry
4 July 2022 Hamilton: Potential for a new primary industry in Waikato
13 July 2022 CHCH: Focusing on processing capability & innovation
14 July 2022 Timaru: Working together to build local industry
18 July 2022 Gore: Alternate land use and industry potential
25 July 2022 Blenheim: Regional strengths and how iHemp fits in
26 July 2022 Nelson: Regional strengths and how iHemp fits in
27 July 2022 Coromandel: What would the focus be for the area
Industry Potential – Why is this important?
The environment, the economy, the government and consumers are moving to sustainable industries to help achieve their goals, ranging from climate change to export and growth targets. National conversations about affordable health, housing and food can be positively influenced by industrial hemp.
We need to build resilient supply chains and thriving regional economies which will develop economic opportunities for the whole of Aotearoa New Zealand. Using sustainable crops of industrial hemp to produce high quality food and fibre makes both environmental and economic sense.
Sponsor, Support or Exhibit – We need you!
To make the most of the Tour, we will be working with key stakeholders in the industry to connect with their networks, to help promote the tour and get the influencers, entrepreneurs and investors in the room.
This will involve local iHemp industry businesses, Iwi groups, Regional Economic Development Agencies, CRI's and Universities. We aim to ensure the presentations are tailored to the specific areas and audiences, that we answer their questions, and provide information to encourage involvement.
We ask that if you are in the industry you can provide your support in the following ways:
• Participation as a presenter/exhibitor/attendee.
• Sponsorship and assistance with venues, and support services such as AV/technical support.
• Help with promotion of the events; sharing with your networks, attract relevant people.
Contact Us
If you would like to be involved please contact us via the form below: