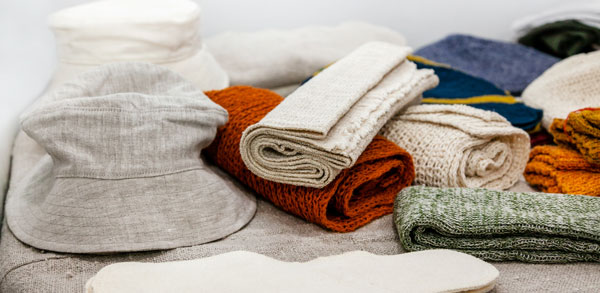 What are you wearing? Is it comfortable? Great.
Do you know what it is made of? Or where it comes from and what will happen to it once you discard it?
Perhaps it's time to have a rethink on HOW we wear clothing.
Our clothing consumer decisions support the industries who produce these items – do you wish to support the production of more chemical fed petroleum-based fibres like acrylic, polyester, nylon and spandex? If you purchase a cheap Tee from these suppliers, that is exactly what you are doing.
Can we create a consumer push for society to buy quality to keep versus the habits of cheap & throw away?
Do we really need to buy, throw out and rebuy our clothing as often as we do?
Hemp fabric is strong and durable (historically used as ship's ropes and sails for its strength), which results in quality textiles that will last a long time and not be consumed and discarded as quickly as mass-produced inferior quality items.
Did you know that iHemp fabrics naturally stop up to 95% of the sun's harmful UV light, while being 5 times as strong as cotton; coupled with strong anti-fungal, anti-bacterial, anti-microbial and anti-static properties?

(NZHIA, Resources)
Let's support the iHemp fibre industry and get society wearing durable eco-friendly, skin-friendly clothing that will last the distance then biodegrade after we are long gone (- basically the opposite of polyester!).
Why aren't more people wearing hemp clothing?
We need to support this industry to create widespread adoption. At the moment there are some great quality hemp clothing offerings available (see the wide range in our summary below). However, they appear pricier than the mass-produced synthetic options, so this could be one inhibiting decision-making reason. But you get what you pay for. What did you get (value, quality, enjoyment, satisfaction) from your last clothing purchase?
The hemp industry has been previously stigmatised as being loved by hippy-type folk who are happy wearing rough, itchy sack-like fabrics while floating on the high a lot of the misguided public believed as associated with iHemp. The blog 'Good on you' feels similarly: "It doesn't help that in the last few years, hemp clothing has been associated with baggy grunge-style clothing in khaki hues. Not that there's anything wrong with unwashed hippy clothing if you happen to be an unwashed hippy".
The NZHIA is part of a global iHemp industry targeting a re-education of these views.
"The only high you'll get from hemp fabric is the moral high-ground you'll stand on knowing you're wearing a sustainable fabric!".

(Good On You)
Given that mainstream brands like Adidas, Quiksilver, Patagonia, Kathmandu and others have added products made of hemp to their offer is helping popularise hemp in the apparel industry.
Many companies are now looking to incorporate hemp as an ingredient in apparel production as part of a drive towards more eco-friendly and sustainable business practices. Check out All Birds – a global company started by a curious Kiwi who wanted to incorporate natural fibres (from trees and merino) in the production of shoes and apparel. Here they are featured on Good Morning America highlighting their newest fibre blend which incorporates hemp.
Hemp (and other plant fibres such as flax and bamboo) appeal to the apparel industry for many reasons, including benefits to the planet in the processing, and benefits to the skin of the user.
What is hemp fibre?
The amazing gift from nature that is industrial hemp can be utilised to produce many products – including textiles such as clothing, fabrics, handbags, linens and towels.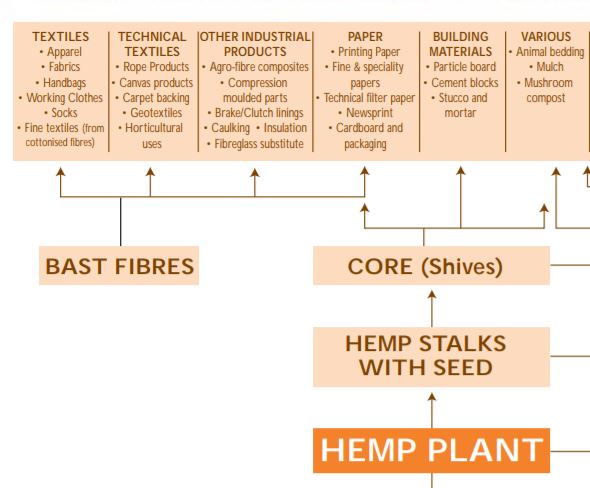 iHemp fabric is created using the bast fibres of the stalk of the hemp plant. The stalks consist of two layers: The inner layer is a woody pith (commonly used for fuel, building materials (hempcrete), and animal bedding). The outer layer is formed from rope-like bast fibres, which once stripped
can be processed and made into yarn.
The basic processes involved in creating hemp fabric for garments are:
Harvesting and retting
Separating the fibres
Spinning and weaving these fibres into yarn
Cleaning and softening
Dyeing and finishing
Historical Hemp Fabric
Hemp is naturally one of the most ecologically friendly fabrics and also the oldest. Hemp fabrics have been woven for at least 10,000 years. The Columbia History of the World states that the oldest relics of human industry are bits of hemp fabric discovered in tombs dating back to approximately 8,000 BC. (Source Organic Clothing)
It is also believed the famous Levi Strauss produced his very first pair of jeans utilising the ruggedness and comfort of hemp as a lightweight duck canvas. (Source Organic Clothing)
Benefits of using hemp fibre for clothing:
Hemp fabric appeals for the following reasons: (note, this is not an exhaustive list!)
• The nature of hemp fibres makes them more absorbent to dyes, which coupled with hemp's ability to better screen out ultraviolet rays, means that hemp material is less prone to fading than cotton fabrics are.

• The traditional manufacturing methods have remained eco-friendly due to mechanical rather than chemical processes.

• Hemp fabric is not susceptible to shrinkage, and it is highly resistant to pilling.

• Fibres from this plant are long and sturdy, hemp fabric can be very soft, but it is also highly durable.

• Hemp can be blended with other natural fibres increasing softness (while maintaining all the benefits of the hemp).

• Hemp fabric softens with each washing; its fibres don't degrade even after dozens of washings, making for long-lasting high-quality fabric.
• Hemp holds its shape having one of the lowest percentage elongation of any natural fibre.

• Some estimates suggest that hemp fabric is five times stronger than cotton fabric.

• Hemp is a lightweight fabric, which means that it is highly breathable.

• Hemp fabric is thermostatically beneficial – cools the skin in the summer and warms in the winter. Clothes made out of hemp fibres turn into personal air conditioning systems as they have the best heat capacity ratio compared to all other fibres. As a natural fibre draws moisture away.

• Hemp fabric naturally provides UV protection (- stopping up to 95% of the sun's harmful UV light).

• Hemp fibre contains strong anti-fungal, antibacterial properties, (making it ideal for use in medical environments) and is highly resistant to mould, mildew, and potentially harmful microbes.
While a typical cotton T-shirt lasts 10 years at the most, a hemp T-shirt may last double or triple that time

(Sewport)
Environmental Benefits of using hemp fibre for clothing:
Creating fabric from iHemp is environmentally friendly in many ways. Growing the iHemp creates a negative carbon impact (- the plant consumes more C02 than the cultivation process creates) and is beneficial to Earth's soil (as it can remove toxins, heavy metals this process is called phytoremediation). The manufacturing processes can be completed organically, resulting in a product that is kinder to the skin of the user. Also, the final product will eventually biodegrade.
Hemp is not the only natural fibre option for apparel. Why choose hemp?
By comparison to cotton, the processes involved in creating hemp fabric uses considerably less water, with cotton also taking longer to reach harvest age and producing less fibres per acre. Creating cotton also requires massive amounts of chemicals harmful to people and the environment.
Fact: The production of cotton consumes 50% of the pesticides sprayed in the entire world.

(Source: Organic Clothing)
Be aware: Buy from a responsible producer.
Manufacturers need to be held accountable; they have a responsibility to ensure their processes consider the environment, their workers and the consumers, along with profitability.
Even though a lot of the processing of hemp fibre into fabric can be done organically through a mechanical process that requires no chemicals, there are companies who are adopting faster, more harmful processes, resulting in cheaper production.
Often you can tell that a hemp fabric has gone through this intensive process if it is labelled as "hemp viscose", which normally involves the same harmful processing with toxic chemicals as regular viscose. Some companies may use the less impactful lyocell process.
Be a conscious consumer and check before committing to a hemp supplier. (Source: Good on You).
Below is a table of suppliers of hemp apparel. Note, this is not an exhaustive list, nor are NZHIA endorsing these companies. This compilation is for inspiration and contemplation.
Check out these options NZHIA has found available: (For your inspiration and consideration – not affiliated with NZHIA unless noted).
NZ iHemp Suppliers:
The Hemp Store
www.hemp store.co.nz
Suppliers of clothing products made with iHemp. Physical shop in Auckland and online.
Merkaba www.merkaba.nz
Suppliers of iHemp bags, hats and clothing, based in Raglan with an online shop and blog.
Original Canvas www.originalcanvas.co.nz
Christchurch based supplier of hemp clothing with an online shop and blog.
All Birds clothing www.allbirds.co.nz
Stockists of earth-friendly shoes and apparel. Physical stores are located globally including Auckland NZ.
Other Suppliers of iHemp clothing:
WAMA Underwear www.wamaunderwear.com
WAMA is pioneering the hemp clothing industry with premium hemp underwear. It uses a high proportion of eco-friendly materials including organic cotton and hemp, and is a PETA approved vegan company!
Afends www.afends.com
Afends is an Australia-based fashion brand leading the way in organic hemp fashion, using renewable energy in its supply chain to reduce its climate impact.
L'Envers www.lenversfashion.com
L'Envers' mission is to design fewer pieces made in a better way. This Spanish brand believes in mindful, careful, and slow consumption, offering timeless editions guided by conscious, sustainable materials.
Vege Threads www.vegethreads.com
Vege Threads is ECA certified and makes all of its clothing in Australia. Its range is sustainable and eco-friendly, and includes men's and women's basics, as well as women's activewear and swimwear.
Margaret River Hemp Co
www.hempco.net.au
Margaret River Hemp is a licenced hemp farmer with the distinction of having the largest hemp harvest in Western Australia in 2021. When it comes to textiles, Australia has yet to give hemp materials produced and created domestically a fair chance. So, while our hemp apparel is still sourced from around the world, we only utilise the best hemp and organic cotton in our designs.
Found an awesome supplier? Learn from experience and share with fellow NZHIA members: #NZHIA admin@nzhia.com
Why is polyester not so good? Because its plastic!
There has been a visible shift in focus in recent years to do better for the environment, on a global scale. We talk about reducing plastic pollution – well, clothing is an extension of that discussion.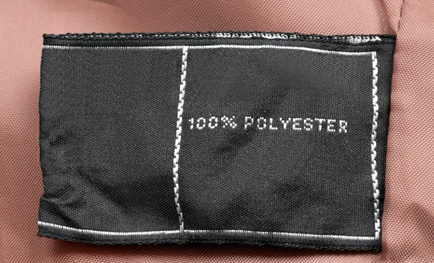 Petroleum-based fibres like acrylic, polyester, nylon and spandex while not being the most environmentally friendly to produce and dispose of, they are also allowing microplastics to pollute our waterways.
See this article written by Ecostore, where they discuss how 60% of the worlds clothing is currently being made from man-made fabrics and the effects this has in your laundry room.
Here are the facts:
Every time you wash man-made fabrics tiny plastic microfibres are shed.
Laundering man-made garments is contributing to the more than 1.4 million trillion plastic fibres estimated to be swirling around in the world's oceans.
Water treatment plants only filter around 60% these microfibres (- the rest enter waterways).
If marine life ingest plastic, and we ingest marine life, then plastic is entering our food chain.
It's not just the ocean infected with microplastics; a 2018 study found microplastics in honey, beer, sugar, and almost all of the 39 salt brands tested.
Production of polyester fabrics is increasing annually.
What can we do about microfibres right now?
Buy less, but better: Natural fibres will eventually break down in the environment.
Say no to synthetic fabrics: The choice is yours to make. Be a conscious consumer.
Let's increase demand for local iHemp!
Most of the iHemp currently utilised to make fabric is sourced from China. They have the space and legislative freedoms to allow for large scale production.
However, New Zealand's iHemp industry is growing. A new iHemp primary processing facility is underway in Christchurch. NZ Natural Fibres has recently begun installation of a decortication plant – which will allow local production of the iHemp shiv (or stalk) into fibres and hurd.
They have great plans to create iHemp and wool hybrid products from the fibres, here in NZ, and present them to the world markets. Read more about their journey here.
Share and learn from experience:
Do you have any iHemp news we can all benefit from? Can you share what you've learned? All members of NZHIA will definitely learn and find value from other members' experiences. We are always available to coordinate growth for all in the industry so please get in touch with tips and tales from the trade: admin@nzhia.com
NZHIA Disclaimer:
NZHIA supports all stakeholders in the iHemp industry. If we have featured a business / brand in any of our articles it is purely a recommendation from our team to yours of an area for consideration. We are not affiliated with, or endorsing any individual business / brand without explicitly saying so. We welcome your questions or queries at any time: admin@nzhia.com
LINKS:
The following articles informed and inspired this blog: