Trends have shown there are increasing numbers of consumers who consider the environmental ethos of the supplier as part of their purchasing considerations.
Take a look at The Brothers Green, a kiwi iHemp retailer who has gone to lengths to ensure their packaging meets their sustainability ethos, including glass bottles and designing compostable wrappers, over using conventional plastic offerings.
Time for reflection and evaluation of your business systems
You provide a great product; do you utilise great systems too? Time for reflection and evaluation.
Are there any unnecessary plastics in your current systems? (Including food offerings to staff/catering).
Are there plastic-free alternatives you can consider in your business systems? Packaging and labels? Transport and distribution?
There may be a great iHemp alternative – see the table of ideas below.
iHemp stands out as a plastic alternative; it is one of the greatest cellulose producers on earth (aiding biodegradability), and is a renewable resource (unlike the fossil fuels required to create single-use plastics). (Orapharm)
Here is a snapshot of the many uses of industrial hemp from The NZHIA 5 Minute Guide to Industrial Hemp 1998.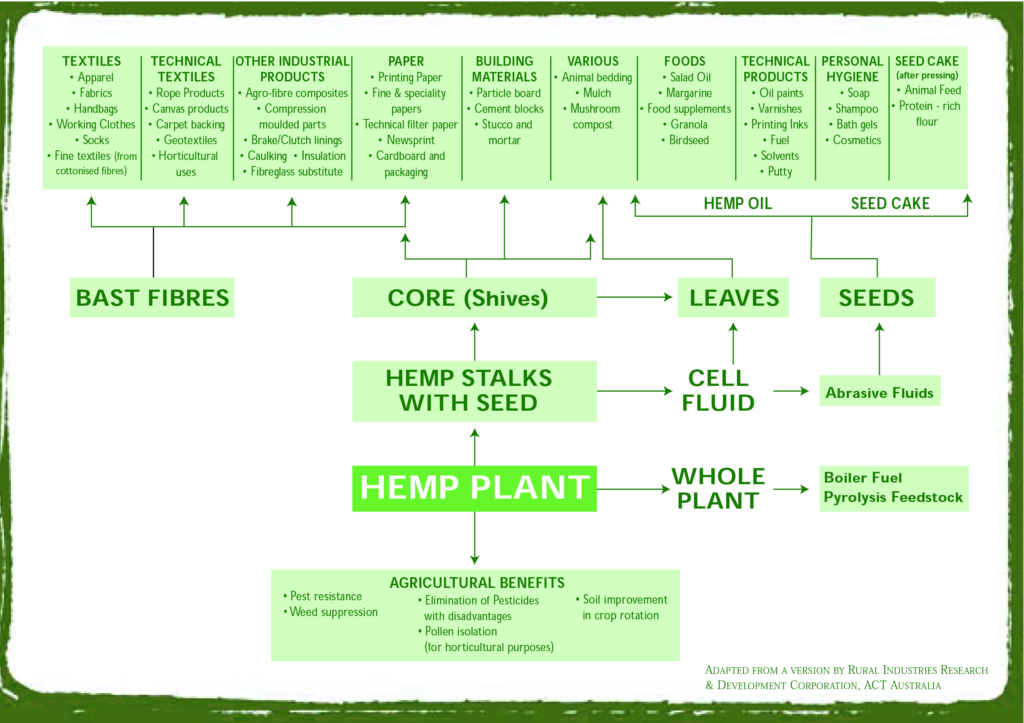 Time to set some goals for the future – how could your business operate more sustainably going forward?
Have consideration for your business operations, as well as your product offerings: What systems do your staff use that could be more sustainable?
Perhaps switch to a plastic-free refillable concentrate for your cleaners – check out this NZ supplier: Ethique. These guys also offer short video clips to explain the science and consideration behind their products.
What are the options/alternatives available to you?
People around the world are becoming more focused on sustainable practices. New options may be worth the investment. Perhaps the traditional methods are not necessarily the ideal option for your business.
So why are we not seeing iHemp plastic everywhere?
There are definitely barriers to change the present – costs, legislation and regulations, iHemp education and awareness, cheap costs of utilising fossil-fuel products.  It is apparent some [more sustainable and eco-conscious] products are not yet commercially viable to produce and supply large scale.  But the research that is underway is leading in a positive direction.  (See article by Ministry of Hemp for further reading).
Promote your positive choices
Educate your audience so they understand the limitations and choices you've made to bring as much value as possible to the product offer.
The Brothers Green has a great article on their website highlighting their choice to use sustainable packaging, including considerations for using a home compostable wrapper for their Hemp Bars:
"We wanted, not needed, to do something different. Not for looks or cost (definitely not cost – plastic is cheap as I have quickly discovered in this journey), but to create change – to be part of leading the movement away from plastic and towards something better. If small companies like ours do not lead this trend and put pressure on larger companies, then who will?"  (read the article here).
Positive attitudes and actions have an impact.
Support businesses offering positive choices
Are other businesses offering products in line with your company's values? See what other NZHIA members are up to / looking to develop. In issue #16 of iHemp magazine, we feature the iHemp Summit 2021 Expo exhibitors and speakers – highlighting industry leaders who are working towards a positive and ecological future.
Check out  Friendlypak – a NZ company creating biodegradable/compostable alternatives (unfortunately not from hemp..yet!).  They offer bags, food trays, cutlery, boxes, cups, paper products – at reasonable prices (- on which they challenge you to compare). 
Before creating Friendlypak, Kevin Graham was an engineer designing the plastic disposable packing we are now at war with.  After a change of view over 17 years ago (when he realised the environmental impact of his designs), he began the experimental process of creating new sustainable alternatives.  One success includes a water-soluble, compostable starch packing material which has now put an end to all that foam polystyrene packaging. (See Newshub article for more).
Sir Peter Blake once said, "Having vision is not enough. Change comes through realising the vision and turning it into a reality. It is easy to espouse worthy goals, values and policies; the hard part is implementation"… So do it! (Says Friendlypak)
Promote others as a means of sharing the choices your business has considered (and the successes of sustainable designs). For example, perhaps you have decided to wrap your product in an organic cotton reusable bag. Consider writing a blog article about your choices of suppliers, the decision-making process and mention those you have successfully worked with. Ask them to reciprocate the favour.
There is also a group called rePurpose who are "a global coalition of purposeful people and companies dedicated to empowering innovators on the frontlines of reducing waste, reviving lives, and restoring nature's balance".  They offer a plastic neutral certification for businesses to promote their dedication to this revolution; to "lead your customers towards change".
Where to buy iHemp plastic & packaging supplies:
Check out these options NZHIA has found available: (For your inspiration and consideration – not affiliated with NZHIA in any capacity).
NZ Suppliers of iHemp Plastic:
Other Suppliers of iHemp Plastic:
LINKS:
NZHIA Disclaimer: NZHIA supports all stakeholders in the iHemp industry.  If we have featured a business / brand in any of our articles it is purely a recommendation from our team to yours of an area for consideration.  We are not affiliated with, or endorsing any individual business / brand without explicitly saying so. We welcome your questions or queries at any time: admin@nzhia.com