Public Newsletter – March 2021 – In this issue:
Whole plant access for the Aotearoa/NZ iHemp industry
Hemp Connect partner with Green Fern to investigate uses for hemp seed by product
Food Innovation Network – Processing technologies for hemp and cannabis products – Event  12 May 2021
Hemp Summit and Expo – how you can get involved 
Hemp news and events 
---
What could the Aotearoa/New Zealand hemp industry do with access to the whole plant?
The local hemp industry is gearing up to take the industry to the next level.
We have had a regulated low THC industrial hemp industry since 2006, and the medicinal cannabis framework was established in 2018 – that separate industry started in April 2020.
Then there is the black market for unregulated, imported and locally produced hemp products, including foods (non- hemp seed), companion animal products, medical and wellness products and illicit green fairy marijuana cannabis products.
The NZHIA are interested in low THC industrial hemp, and given the Ministry of Health approach to keeping the medical and iHemp sectors separate, it is a huge job to commercialise the opportunities from the whole plant, excluding medical applications.
To realise the economic benefits of an iHemp industry, we need to have access to the revenue streams from all parts of the plant.
Low THC iHemp is not a narcotic drug crop, and should not be treated as a "Controlled Drug" under the Misuse of Drugs Act 1975 – it is just another arable and horticultural crop with massive opportunities for fibre, seed and health applications.
The iHemp plant contains over 520 naturally occurring compounds, including: cannabinoids, terpenes and flavonoids. Plus there is the stem for fibre applications, and the nutritious seeds – our iHemp crop can produce a massive amount of raw materials for all industry sectors, in a short growing period.
A iHemp industry with access to the whole plant would be an economic bonanza for rural Aotearoa New Zealand, and would help the Government.
We need to get started now and develop the technology to add value to iHemp, otherwise we will have to license this tech from overseas – in doing so we would have missed the biggest economic opportunity from the beginning of the 21st century.
Come along to the iHemp Summit and Expo to hear how and to meet the people who are ready to do it.
---
Greenfern awarded research grant to investigate high-value products made using hemp seed oil by-products
A Taranaki-based medicinal cannabis and industrial hemp venture is part of a group that will investigate ways to turn hemp seed hulls, for which there is little or no market currently, into high-value products destined for the global export market.
Greenfern Industries is part of a partnership awarded $145,000 in cash and in-kind funding for research into products created from the by-products of hemp seed oil processing.
Greenfern will work alongside industry partners Callaghan Innovation and Hemp Connect as part of the project funded by the Bioresource Processing Alliance (BPA), which, in turn, is funded by the Ministry of Business, Innovation and Employment. BPA invests in research and development projects with the aim of generating additional export revenue for New Zealand by working with the primary sector to get better value out of biological by-products.
---
PROCESSING TECHNOLOGIES FOR HEMP AND CANNABIS PRODUCTS
Event Date: 12 May 2021 register here
Presented by the Food innovation Network 
Cannabis, including industrial hemp varieties, can be used to make a range of dietary, cosmetic, and medicinal products. These range from medicinal cannabis extracts through to hemp seed oils, hemp 'milks', and hemp protein powders. Some of these products are already in the market while others are in active development following recent legislative changes in New Zealand.
This workshop will give an overview of typical product characteristics and current product trends, followed by a more detailed discussion on the processing techniques used and regulatory requirements in New Zealand for manufacture of these products. The workshop will be followed by a tour of supercritical fluid extraction, mixing, blending, and drying operations located at The Food Bowl.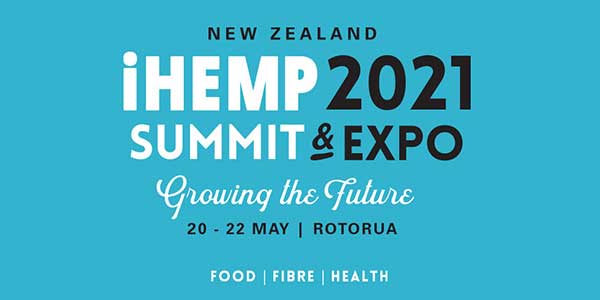 Registrations are now open – and due to the lifting of Trans-Tasman travel restrictions, the Early Bird discount has been extended to 16th April 2021

There is a fantastic program and fabulous speakers who will take you on a deep dive into the iHemp industry. If you are interested in finding out how iHemp can fit with your business plans, you need to be at this event.

See you in Rotorua for the iHemp Summit and Expo 19-22 May 2021

Register now and attend this important event
NZHIA AGM and Welcome event on Wednesday,
Expo and Summit Thursday and Friday,
Public Expo and Seminar day on the Saturday.
---
News Articles

19 Mar 2021 – NZ Herald – Hemp harvest: Waimarama whānau turning over a new leaf
3 Mar 2021 – Scoop – Could The Next Emirates Team New Zealand Boat Be Made Entirely Of Hemp?
2021 Christchurch NZ – Unlocking the Potential of Hemp
---
Upcoming Events
Events
19-22 May 2021 – iHemp Summit and Expo, Rotorua

22-25 March 2022 – Australian Industrial Hemp Conference, Tasmania
---
Join the NZHIA for more information and support for your hemp enterprise, together we stand!
---