Public Newsletter – December 2020 – In this issue:
Regulatory update – Moving back to enabling an iHemp industry
Callaghan Innovation – Hemp Industry road maps
Guidance from ACVM – Animal food
New issue of iHemp Magazine #13
Hemp Summit: Hold the date 19-22 May 2021

In the news – Press Articles and Events
---
Regulatory update – Moving back to enabling an iHemp industry
Around the world regulators have been preoccupied with controlling a perceived risk, but the pendulum is swinging back toward enabling industry 
1) Following a court case in France, the European Union Court of Justice ruled on 19 November 2020, that CBD cannot be regarded as a narcotic drug.
2) On the 2nd December the EU down-scheduled medicinal cannabis, moving it from it's strictly controlled Schedule 4 to a Schedule 1, making this very safe medical product more accessible.
3)   4th December: The U.S. House of Representatives passed the Marijuana Opportunity Reinvestment and Expungement (MORE) Act, which aims at ending the federal prohibition on cannabis, and provides support for people impacted by the war on drugs.
These are all incremental steps towards recognising cannabis as a truly global industry
The European court ruled that:
Extract from flowers is not considered to be a narcotic in the 1961 United Nations Single Convention on Narcotic Drugs.
A member state may not prohibit the marketing of CBD legally produced in another member state when it is extracted from the cannabis sativa plant including flowers.
France must provide scientific proof of the dangers of CBD if it chooses to keep in place its current ban on the marketing of CBD-infused product
The UN decisions reflect the safety of medical cannabis, and should help the regulators to see low THC iHemp as an industrial raw material, not a narcotic drug.
Cannabis, unlike many other medicines, does not have an LD50, so there is no lethal dose, making it an incredibly safe and useful medicine.
The UN voted against the proposals that related to CBD, supporting the observation that CBD is not a narcotic drug and is not limited to medicinal use.
Clearly CBD should not be related to the Single Convention on Narcotic Drugs, and is another reason why the regulators need to have a broad mind when dealing with natural products like cannabis.
We do not fit well in to the chemical or pharmaceutical industry as we are not single molecule orientated. Cannabis is more diverse, there are hundreds of molecules, meaning it works in thousands of applications – and we are just getting started.
The regulator has always struggled, they understand low THC iHemp is not a drug, but when considering hemp products (made from iHemp), they still choose to apply the THC (Controlled Drug – Misuse of Drugs Act 1975) or in Aotearoa/New Zealand – CBD (Prescribed Medicine – Medicines Act 1981) rules, which then excludes the industry from many lucrative export and local markets.
The iHemp industry will benefit if we can get access to the revenue streams from the whole plant. Full plant utilisation is the key to the success of the industry, and would allow us to create opportunities in the regions, and to achieve various goals with regard to export, economic/social and climate change.
---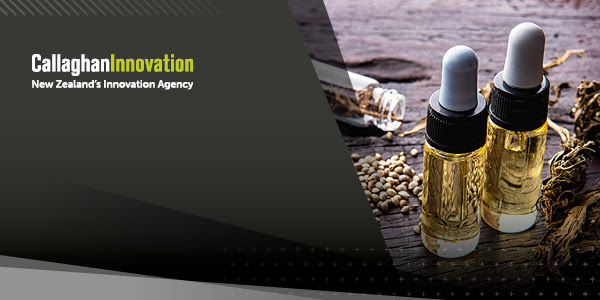 Callaghan Innovation – Hemp industry road maps – fibre, medicinal cannabis and seed
Simon Yarrow, Group manager AgriTech, recently announced the three hemp and medicinal cannabis capability roadmaps available for download on the Callaghan Innovation website.
NZ's hemp & medicinal cannabis industry has the potential to be a big economic contributor. Callaghan Innovation, with support from key industry experts, has created downloadable capability roadmaps to guide those innovators through planning and operational set-up.
www.callaghaninnovation.govt.nz/access-experts/hemp-and-medicinal-cannabis-capability-roadmaps

These roadmaps will help guide innovators in the hemp and medicinal cannabis industries through their planning and operational entry.

Callaghan will continue to update the roadmaps as new developments impacting the industry arise, so feel free to provide ongoing feedback at roadmaps@callaghaninnovation.govt.nz.
---

Guidance update from ACVM – Feeding hemp to animals
The team at MPI – ACVM have updated their 2018 guidance, with the October 2020 release of their ACVM Alert Notification 20-001 – Industrial Hemp as Agricultural Compound
We continue our discussions with MPI as their position is quite frustrating, they say there is a pathway to register products for animals, but it turns out that it is impossible to achieve, for example – the zero molecule tolerance for THC (controlled drug) and CBD (prescribed medicine)
There is also the difference between companion animals and production animals which is being overlooked.
We all agree that the hemp industry does not want to jeopardize the milk and meat export industries, but we do need to make progress in these areas while our trading partners decide on what is the most appropriate treatment of cannabis in the human and animal food chain.
In 10 years we will look back and say what was all the fuss about, CBD infused food products will likely be common place.
But for now we have to support the Regulator and help them to facilitate the steps and work programs that will prepare the industry, when common sense prevails.
We look forward to moving this forward with MPI and MOH in 2021
---
New issue of iHemp Magazine #13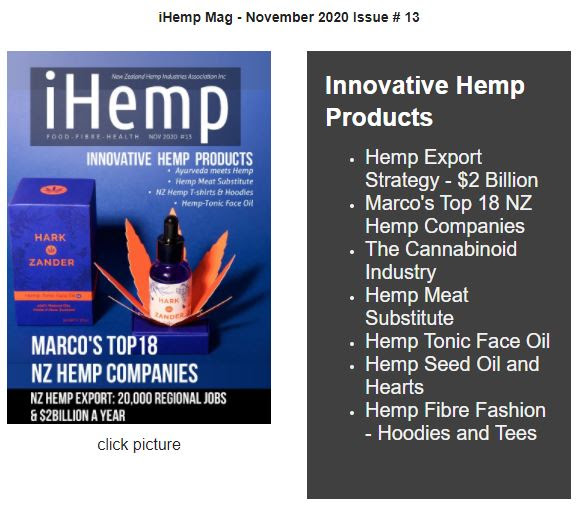 ---
Hemp Summit: Hold the date 19-22 May 2021
Hold the date – 19-22 for the 2nd iHemp Summit and 1st iHemp Expo
NZHIA AGM and Welcome event on Wednesday,
Expo and Summit Thursday and Friday,
and a public Expo and Seminar day on the Saturday.
---
Recent iHemp – Press Articles
---
Join the NZHIA for more information and support for your hemp enterprise, together we stand!
---