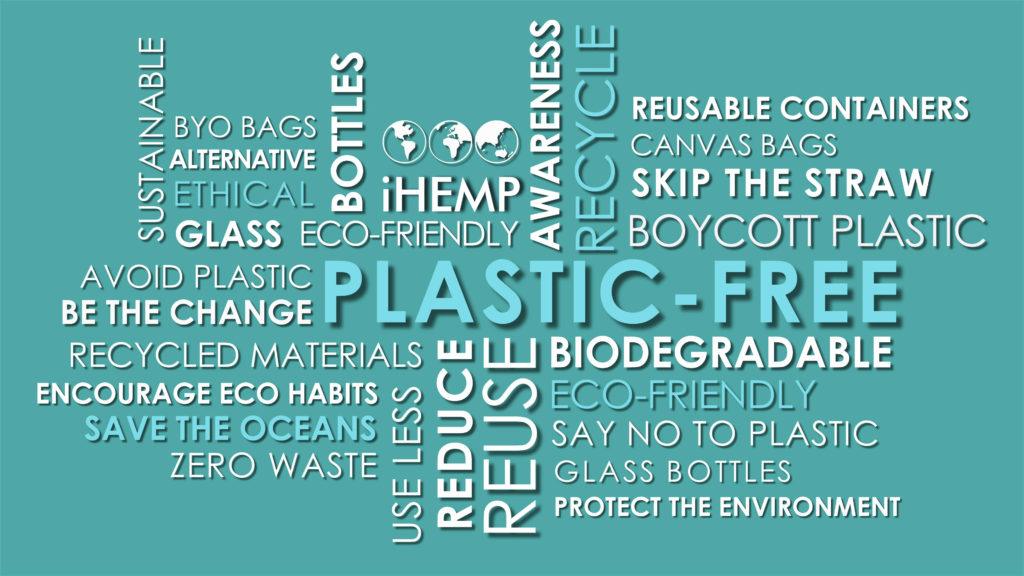 What does a plastic free future look like?
Plastic Free July is a global initiative set up to encourage awareness of the usage of plastic in our society as a whole and the alternative choices available to those who care to reduce the environmental impact of plastic waste. Check out their website full of inspiration and resources to encourage us all to reflect on our choices.
Our global plastic waste situation has become dire.
On Henderson Island, an uninhabited piece of land in the South Pacific, researchers have found 38 million pieces of plastic waste. (Source: Ministry of Hemp)
"That is not to say that plastics can't breakdown, they do, but it takes a long time;
plastic bottles take up to 450 years to decompose in landfill"
Plastic Free July is a reminder to stop and reflect.
It is in the best interests of all businesses to have environmental awareness. As responsible suppliers to the iHemp industry we need to be environmentally conscious to support the ethos of this bountiful natural resource.
But how can iHemp industry members make an impact?
Perhaps Plastic Free July could be a contemplative time for evaluating current approaches?
Rethink plastics: Engage your staff and customers to be part of the plastic free movement
Consider packaging alternatives to reduce the demand for plastic
Reduce or remove unnecessary usage of single use plastic in your business and personal lives – consider the impact of single use plastic plates, straws and other food related items.
Empower others by promoting the plastic-free message. Signs for businesses are available on the Plastic Free July website – click here.
RETHINK – REDUCE – REUSE – RECYCLE
Time to set some goals for the future – how could your business operate more sustainably going forward?
Have consideration for your business operations, as well as your product offerings: What systems do your staff use that could be more sustainable?
Perhaps switch to a plastic-free refillable concentrate for your cleaners – check out this NZ supplier: Ethique. These guys also offer short video clips to explain the science and consideration behind their products.
What are the options / alternatives available to you?
People around the world are becoming more focussed on sustainable practices. New options may be worth the investment. Perhaps the traditional methods are not necessarily the ideal option for your business.
So why are we not seeing iHemp plastic everywhere?
There are definitely barriers to change present – costs, legislation and regulations, iHemp education and awareness, cheap costs of utilising fossil-fuel products. It is apparent some [more sustainable and eco-conscious] products are not yet commercially viable to produce and supply large scale. But the research that is underway is leading in a positive direction. (See article by Ministry of Hemp for further reading).
Create new opportunities
Kiwi's are renowned for thinking up great ideas; could the focus of a plastic free future not prompt investment in new ideas locally now?
New market opportunities could be available. Could an iHemp member consider working with other industries to create new offerings? For example, providing hemp textiles as shopping bags for suppliers. Look at the offerings in the market for bamboo products – could we not aim to do the same with iHemp?
To look towards a brighter future, we need to make positive changes.
iHemp will become more affordable and accessible as the industry grows. I can see us in the near future surrounded by products incorporating the unique qualities and strength of iHemp.
So, in the meantime, if we can all take small steps as individuals, we will produce great strides in the right direction.
"Growing hemp as nature designed it is vital to our urgent need to reduce greenhouse gases
and ensure the survival of our planet"

Jack Herer
Environment & Sustainability Considerations for iHemp suppliers:
iHemp is a natural product. What considerations have your incorporated into the rest of your business to reflect the iHemp ethos?
• Consider the packaging.
• Consider the transport options and materials.
• Consider your choices of industry partners / other companies you work with.
• Consider your office products and production systems also.
Time for reflection and evaluation of your business systems
• You provide a great product; do you utilise great systems too?
• Evaluate your current use of plastics. Are there any unnecessary plastics in your current systems? (Including food offerings to staff/catering).
• What are the considerations for the future? Time to set some goals.
• Can you research more plastic-free and environmentally sustainable business practices to adopt going forward?
• What are the options/alternatives available?
Promote your positive choices
• Include your environmental choices in your media communications/advertisements.
• Discuss the options you considered, on your social media/blogs.
• Educate your audience so they understand the limitations and choices you've made to bring as much value as possible to the product offer.
Support other businesses offering positive choices
• Team up with complementary partners.
• See what other NZHIA members are up to / looking to develop.
Create new options and opportunities
• Kiwi ingenuity can produce new ideas – perhaps there is an opportunity to create a new alternative?
New market opportunities could be available for an iHemp member to consider working with other industries.
Share and learn from experience:
Can you share what you've learned? All members of NZHIA will definitely learn and find value from other members' experiences. We are always available to coordinate growth for all in the industry so please get in touch with tips and tales from the trade: admin@nzhia.com
LINKS:
NZHIA Disclaimer: NZHIA supports all stakeholders in the iHemp industry. If we have featured a business / brand in any of our articles it is purely a recommendation from our team to yours of an area for consideration. We are not affiliated with, or endorsing any individual business / brand without explicitly saying so. We welcome your questions or queries at any time: admin@nzhia.com