Kia ora,
Welcome to your NZHIA August update, here's a sneak peek of this month's newsletter;
IN THIS ISSUE:
An update from the NZHIA Chair
iHemp Magazine: latest issue out now!
iHemp Summit 2021 from Mike Nichols
News updates
COMING UP IN SEPTEMBER:
NZHIA Growers & Licence Holder Survey
5 SEPTEMBER: Fathers Day
13 – 19 SEPTEMBER: Māori Language week
21 – 27 SEPTEMBER: Mental Health Awareness week
UPCOMING EVENTS:
20 – 22 OCTOBER 2021: ASTM International Workshop on Cannabis Standardization
---
An update from the NZHIA Chair
We hope that all of our members and others in the iHemp community are safe and well while we sit through another nationwide lockdown. We'd like to take a minute to express our gratitude to those essential workers, food supply chain businesses, and people who are helping out in their communities – thank you for your efforts.
Prior to lockdown, we had another successful round of meetings with Government officials to help understand their interpretation of the iHemp regulations. This has focused us on going back to basics to really understand our objectives and what it is we are trying to achieve.
The NZHIA has been approached to be a founding member of a worldwide industrial hemp organisation. This would allow for further R&D and advancement of the hemp industry's worldwide commerce, as well as harmonisation, regulation, networking, and cooperation opportunities. The worldwide organisation is in the early phases of development, and we'll keep you informed as things progress.
While the lockdown has impacted some of our meetings and advancements, we are still refining our Strategy and Government Workplan.
After updating our members, the next step is to work with the great people at MPI, "Industry and Sector Engagement," to schedule a meeting of the "Industrial Hemp Liaison Group" to roll out our strategy and provide an update to the stakeholders in the wider industry.
Richard Barge
NZHIA Chair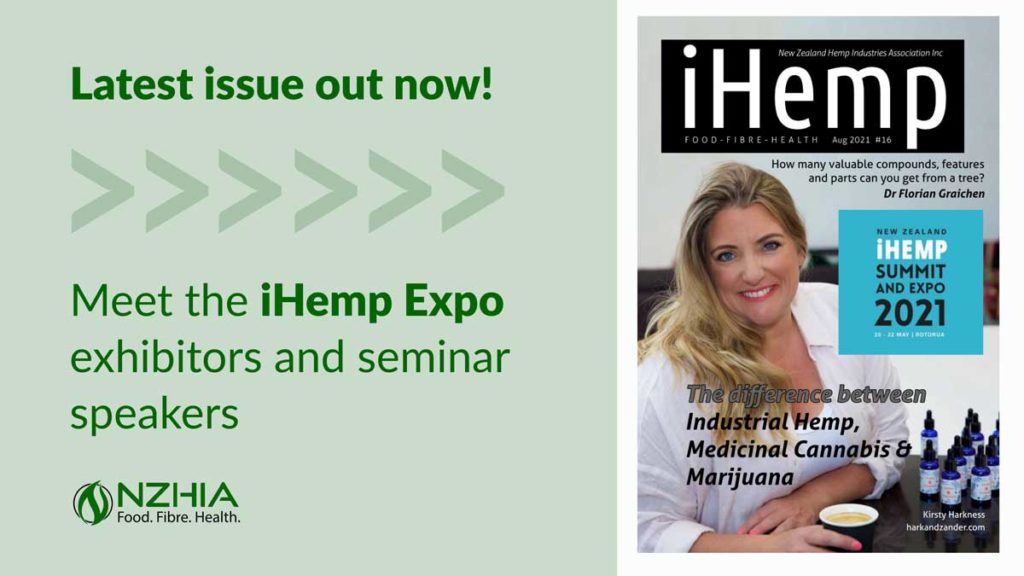 iHemp Magazine: Latest issue out now
Meet the 2021 Expo Exhibitors & Speakers
If you were unable to attend the iHemp Summit and Expo this is your opportunity to "meet" the Exhibitors and Hemp Seminar
Speakers. Here's a preview of whats inside:
How many valuable compounds, features and parts can you get from a tree?
The difference between Industrial Hemp, Medicinal Cannabis, and Marijuana
Sale of Hemp Flowers and Leaves is legal, overseas
Hemp is The Creme de la Creme, of all building materials
Plus so much more. If you haven't already done so, you can read the latest issue here: https://joom.ag/5NtI
---
iHemp Summit 2021 from Mike Nichols
The 2021 IHEMP SUMMIT & EXPO was held at the Events Centre, Rotorua from 19-22 May 2021. It was organised by NZ Hemp Industries Association (NZHIA) and comprised an afternoon visit to Scion, followed by 2 full days of presentations, and a Public Day for local residents to listen to some seminars, and to view the trade exhibits.
Following a Mihi Whakatau we were told by the mayor of Rotorua (Steve Chadwick a former MP and Cabinet member in an earlier Labour government). how happy she was to welcome us, as we were the first international conference to be held in Rotorua since Covid, particularly the delegates from Australia.
The welcome from Richard Barge (Chairman of NZHIA) was followed by the Keynote address by Hadleigh Smith from Merino NZ, who emphasised the possible advantages of going it alone with a specialised product, rather than linking with a bigger organisation (e.g., NZ Wool Board). Of, course, currently any natural fibre is increasingly popular world-wide because of its biodegradability compared with artificial fibres.
Michael Haynes (Medsafe) then presented an overview of the current licencing, framework and application activities required to grow industrial hemp, while Manu Caddie (Medical cannabis Council) spoke on the practical implications of the current regulations for both medicinal and industrial cannabis. This was followed by Simon Yarrow (Callaghan Innovation) who presented a paper on hemp industry updateable road maps.
The recently opened travel bubble between Australia and New Zealand allowed two speakers from Australia to be physically present rather than by zoom. Tim Schmidt is the Chair of the Australian Hemp Council, and he spoke on recent trends in food and fibre in Tasmania, while Andi Lucas told us about the plans for the next Australian Hemp Conference, to be held in Launceston, Tasmania next year, then Pat English (Taimona Consulting) addressed the meeting on the integrated roles of government, the regulators, research, and industry in internationalisation.
After lunch the session highlighted industry experiences.
First up was Matthew Johnson (Hemp Connect) who on spoke on food issues regarding growing hemp from seed. He was followed by Leigh Gibbs (Cosmetic NZ), who described how to get started into cosmetics, and the role of Cosmetics NZ. Jo Townsend (Midlands Seeds) brough us back to earth with a paper on cultivar selection for food crops, and she was followed by Owen Darby (Meraki Natural) who described the use of hemp for bioremediation of soils polluted with heavy metals, and the possible extraction from the hemp of some high value metals. Tanya Simmonds (Hempseed Holdings) then presented an account of the work of Mack McIntosh, (the "godfather" of hemp growing in New Zealand). It was then the turn of three ladies from Hinemaia Hemp o Te Waimana to describe their efforts to grow hemp, and their intention to use it for producing low-cost housing for Ngai Tuhoe iwi. Inspirational!
Following afternoon tea the next presentation was by Kirsty Harkness (Mount Base) who described her work to grow hemp between rows of wine grapes in Marlborough. My immediate thoughts were "no way", but she was able to demonstrate that not only was yield not reduced, but the quality of the wine had been enhanced. This appears to have been due to the pollen from the hemp landing on the grape berries and feeding the yeast. Nigel Slaughter (Ligar Polymers) then suggested that the future for hemp was in separating the many different chemicals within hemp for product development. e.g., removing THC for example would open considerable opportunities to use hemp chemicals for flavouring or for specialised medicinal purposes. Cannabis is a cornucopia of valuable chemicals, which currently in New Zealand are restricted due to the current restrictive regulations. Peta Fraser (NZTE) then showed how exporting could be assisted by using NZTE, and the day finished with a presentation by Dr Nick Hunt (Next Corporation), who suggested what might be achieved by 2025 with just a few minor changes in the current regulations!!
The following day commenced with an enthusiastic presentation by Jo Say of the Hemp Building Association of NZ who explained why hemp should replace concrete as a building material. Chiefly sustainability and lightness, as cost is not dissimilar to that of other building materials. It is clearly a material to seriously consider in the future, once there is an adequate supply of hemp available. Fireproof, and with high insultation characteristics it has a lot of potential. Note, in fact my nephew in England has recently built a straw house using similar principals. It has tremendous insulation properties both in the winter, and the summer. Manu Rastogi (Kathmandu) then described how he would like to incorporate Hemp fibre into his wool mixes. He was followed by a scientific presentation by Johanna Steyaert (Lincoln Agritech) on how to build resilience to the production of hemp by using the naturally occurring soil biology.
Functional Foods and wellness were the topic presented by Samantha Gray (BioEquitas and Natural Health Products), and she was followed by Mark Lucas (from Cannasouth) who spoke on Medicinal cannabis production and research. Florian Graichen (Scion) then spoke on ambitions, the scientific requirements, and New Zealand's capabilities. Dr Parmjit Randhawa (Greenlab, Lincoln) then emphasised how complex the growing of cannabis was for both medicines, or food or fibre.
The final session of the conference was all about regeneration with an introduction by Igor Botelho, (Brazil) and a zoom presentation from USA by Ryland Engelhart (the founder of "Kiss the Ground").
To me the take home message was that New Zealand must move away from too much dependence on a few sectors of agriculture/horticulture, e.g., dairy and sheep (or in horticulture kiwifruit and apples), and to diversify into a number of different products. Hemp is just one possibility but has a wide range of potential uses and product options. Two which come immediately to mind are:
CBD for its ability to provide wellness. In the USA (for example) it is available in a wide range of products, but because in New Zealand it is included in the medicines act it is treated like a controlled substance, even though it has no psychoactive properties.
Hemp as a building material has potential, but currently is mainly imported because hemp production in New Zealand is insufficient to provide enough. A chicken and egg situation.
---

iHemp industry news from New Zealand and around the Globe.
Growing Pains: Push to open new industrial hemp markets. Read more via ABC
Don't just survive, thrive: Kirsty Harkness, a serial entrepreneur's secrets to success and her 5 biggest tips for businesswomen. Read more via Capsule +
North Queensland Register: Hemp crops have yielded up 4.8 tonnes per hectare in the NT. Read More +
Lancaster Farming: National Hemp Tour: Hempcrete & Fiber Trails near the Umatilla Indian Reservation. Read More +
Hemp Today: Initiative to consolidate the global hemp industry is launched. Read More +

The NZHIA website www.nzhia.com is an information resource for members, hemp enthusiasts and those curious about the industry. You'll find information on;
– Jen Hobbs, Author –
Simply choosing to purchase hemp products is one of the easiest ways to get involved and contribute to the industry's success. The more demand for hemp, the better.

Jen Hobbs, Author
---