Kia ora,
Welcome to your NZHIA January/February newsletter; here's a preview of the news, and events in this issue;
IN THIS ISSUE:
• NZHIA Chair Update
• Hemp Licencing Tool: Update from Webtools Agritech
• Video Summer Sale
• Australian Industrial Hemp Conference
• 2021 Licencees survey
• In the News
• Resources
UPCOMING EVENTS:
22 – 25 MARCH 2022
Australian Industrial Hemp Conference, Tasmania
16 JUNE 2022 (Postponed from March)
Cosmetics NZ Suppliers Day
16 – 18 AUGUST 2022
NZ Health Products Summit
---
An update from the NZHIA Chair
Welcome to the NZHIA's first newsletter for 2022.
Whilst many of us have taken the time to rest and recharge the batteries over the summer break, our hemp farmers have been busy and are now preparing for harvest.
The NZHIA has also been busy planning the first quarter activities. Our government committee have reviewed the progress on our NZHIA High-Level workplan and strategy development in preparation for our meeting with the MPI "Industry and Stakeholder Engagement" team.
We have an exciting year ahead, the media team are preparing for Quarter 2, when we are going to be busy promoting the AGMARDT funded speaking tour, with details to be announced in March 2022.
This will be a great opportunity to raise the profile of the iHemp industry, in many different ways and across a wide variety of audiences. With the aim being to build a collaborative network of people, organisations and businesses involved in the iHemp Industry.
The Australian hemp conference will be underway next month in Tasmania. As it is possible to travel to Australia I would encourage anyone that can make it, to attend. It will be a great chance to see the industry in action; they have a diverse program with great speakers and field/factory visits. What better excuse do you need to visit Tasmania?
If you can't make it, there is a virtual option, please see the information below.
All the best.
Richard Barge
NZHIA Chair
---

Hemp Licencing Tool: Update from Webtools Agritech
Webtools have been busy the past few months building out the annual returns section of the Hemp Licence Tool. "We now have the ability to keep a digital seeds register, with each record linked to another licence, with the assurance that both licences are approved for activities and cultivars as specified".
This functionality is key to providing greater robustness in records kept, and speeding up the annual returns process. "We will be beginning a Beta Testing phase very soon, providing access to a small user group to trial the tool and provide early feedback". If you would like to be a part of this, please contact erica.lim@webtools.co.nz.
---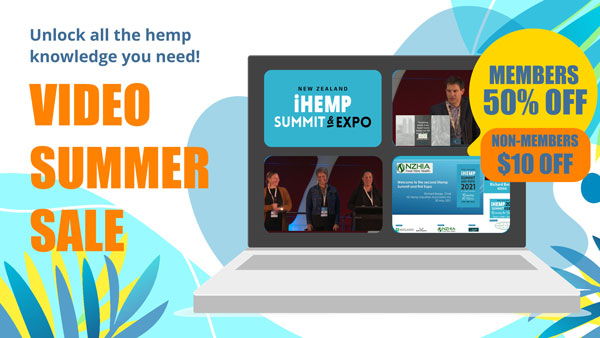 🌴 ☀️ VIDEO SUMMER SALE 🌴 ☀️
If you haven't had the chance to watch the iHemp Summit 2021 videos here's your chance! You'll be able to unlock all the hemp knowledge you need with an NZHIA discount of $10 OFF!
Buy all videos for $39.00 ($25.00 USD) which includes:
☀️ 9 Hours of iHemp Summit 2021 video
☀️ Q & A sessions with industry leaders
☀️ Speaker presentations and data
"This video resource offers all you need to know about industrial hemp," says Richard Barge, Chair of the NZHIA.
Learn about the licencing process
Research and development opportunities
Regional development and Māori involvement
Access the discount via: https://vimeo.com/r/3svm/WmFVYWw0Q3
*Prices will be charged in USD.
---
Australian Industrial Hemp Conference
Event information and streaming options
This is a unique opportunity to attend an event that is engaging, interactive and proactive, bringing the whole industrial hemp industry and their supply chains together for conversation, networking, development and research.
TRAVELLING TO THE AIHC:

For those planning to travel to Tasmania, there are so many reasons to attend!
• Pre-conference workshops
• The opportunity to directly engage with the line-up of speakers presenting during eight sessions over 2 official conference days
• Two networking events
• Post-conference Field Day

Plus so much more. For full event details and delegate package options please see:

• AIHC Tickets
• Accommodation

We suggest for travel advisory information access the following Government websites to assist in your planning:
• Coming to Tasmania
• NZ Government – COVID-19
Tasmania's border requirements will change from 12.01am Saturday 26 February 2022. From that time there will be no entry requirements for travellers to Tasmania – regardless of vaccination status or where they have spent time prior to arrival".
DISCOUNTED STREAMING TICKET OPTIONS:
The AIHC Organising Committee appreciates that those living in WA and New Zealand are currently having additional challenges making travel plans due to their regional government's rules around re-entry.
While they remain hopeful that this situation might change over the weeks ahead, they are also offering a heavily discounted online streaming option for supporters of the NZHIA.
The AIHC encourage streaming attendees to be there 'live' if possible, as you will have a chance to interact with the speakers via the end of session Q&As.
If you're unable to be there on the day, or the time difference makes it tricky, the content will also be available via a special link for one month following the event.
Day passes or full event streaming options are available starting at $100.00.
ACCESS THE AIHC DISCOUNTED ONLINE OFFER HERE
---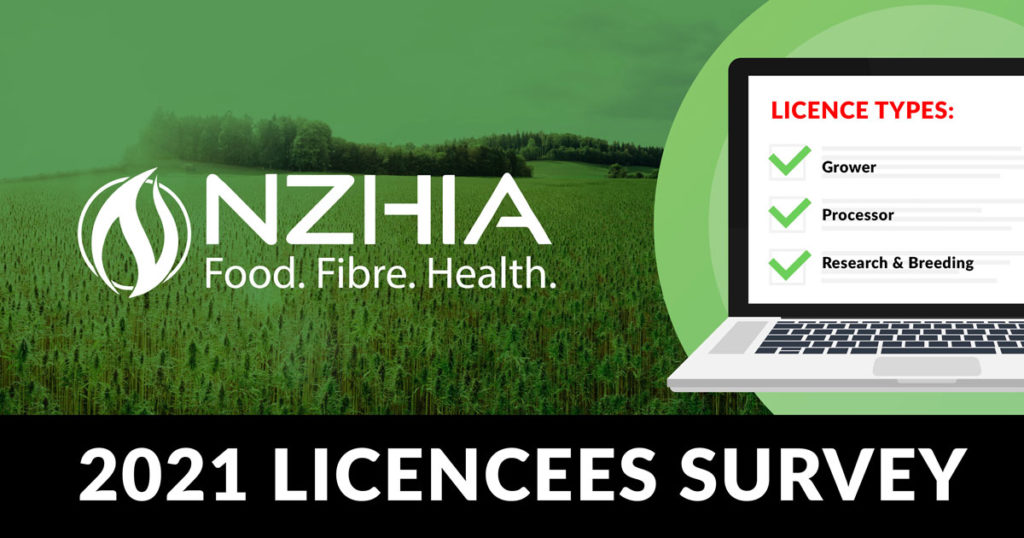 Calling ALL licence holders! 2021 Licencees Survey needs your attention
Your assistance is crucial to help us support the industry and develop tools to make the process easier for ALL licence holders.
We need to contact the 192 current licence holders across Aotearoa. Please help us to assist the industry by completing the survey. If you know a iHemp licence holder, please share the survey with them, by sending them this link.
By taking 5-10 minutes to complete the survey you can help create information on the industry!
https://www.surveymonkey.com/r/LWM6FTQ
---

iHemp industry news from New Zealand and around the Globe.
High-tech markets for NZ hemp Fibre (with NZ Natural Fibres & Carrfields) Listen to the podcast via Sarah's Country
Opening the gates to hemp fed livestock in Australia Read more via the Department of Primary Industries & Regional Development
Scoop: Plant & Food Research And Lincoln University Part Of Game-Changing Gene Discovery Read More +
Canna Tech Today: What is the Difference Between Flavonoids and Terpenes? Read More +
Hemp Grower: Oregon State Research shows hemp compounds prevent coronavirus from entering human cells Read More +
---

What's on the Bookshelf

Need some recipe inspiration? Want to know more about hemp fibre uses? Need to check on some terminology or thinking about the future of the NZ hemp economy? Here are the quick links to the publications to help with those questions:
---
The new year stands before us like a chapter in a book, waiting to be written

Melody Beattie
---