Kia ora,
Welcome to your March newsletter; here's a preview of the news, and events in this issue;
IN THIS ISSUE:
• NZHIA Chair update
• The NZHIA iHemp Discovery & Investment Tour
• NZHIA Blog: iHemp in the clothing industry
• Newsletter Distribution Update
• News updates
• Resources
UPCOMING EVENTS:
16 – 22 MAY 2022
Techweek
21 – 22 JUNE 2022
E Tipu – The Boma Agri Summit
16 – 18 AUGUST 2022
NZ Health Products Summit
NZHIA EVENTS
---
An update from the NZHIA Chair
2022 is shaping up to be a pivotal year for the iHemp industry. As we go through the planning stage of our "iHemp Discovery and investment tour" it has given us a chance to communicate with industry leaders, iwi, the regional Economic Development Agencies, and the CRI's, universities and other networks in the Aotearoa New Zealand R&D ecosystem.
One thing has become very clear; there is a lot of support and interest in the iHemp industry, with organisations and groups beginning to ask about their role in this emerging sustainable economy.
The tour will give us an opportunity to provide information to these people and help them join together to build a new industry in the regions. One that will complement and work well with other primary industries, by providing an alternate crop rotation option and the opportunity to invest in building capacity and skills necessary to add value locally.
We are very excited as this tour will also be a call to action. The call will be to the public to support our emerging industry and to participants to identify the gaps in the value chain and get involved. It will encourage companies and individuals to incorporate iHemp into their business plans and create the demand and resilient supply chains. Also, a call to the government, to acknowledge and support an industry that can help achieve their goals, in a wide range of areas from housing, health, social and environmental issues, to export growth and regional development.
We need to collaborate; as a small country we need to work together to ensure continuity of supply to global, niche, (and high value) markets for our products and tech.
We can learn from other industries and start off on the right foot, building in sustainable approaches and the structures needed for local and export success. By ensuring we have full plant utilisation, we will naturally adopt a circular economy approach. And by working with other primary industries and utilising their by-products we can further enhance our clean green image, whilst providing additional revenue or costs savings.
2022 is the year where we finally acknowledge that we need an industrial hemp industry in Aotearoa New Zealand and commit to making it happen.
Richard Barge
NZHIA Chair
---


The NZHIA iHemp Discovery & Investment Tour
Exploring hemp's economic and sustainability potential
This pioneering industry is on the edge of incredible growth. We're looking for farmers, growers, entrepreneurs and businesses who want to discover how to invest, upskill and become part of Aotearoa New Zealand's next billion dollar economy.
The objective of the tour is to bring understanding to business owners on how they can incorporate industrial hemp – seed and natural fibre – into their business model, to create a market for hemp products.
The chart below is provisional and the final dates and venue details will be updated on Humanitix event page when they are confirmed.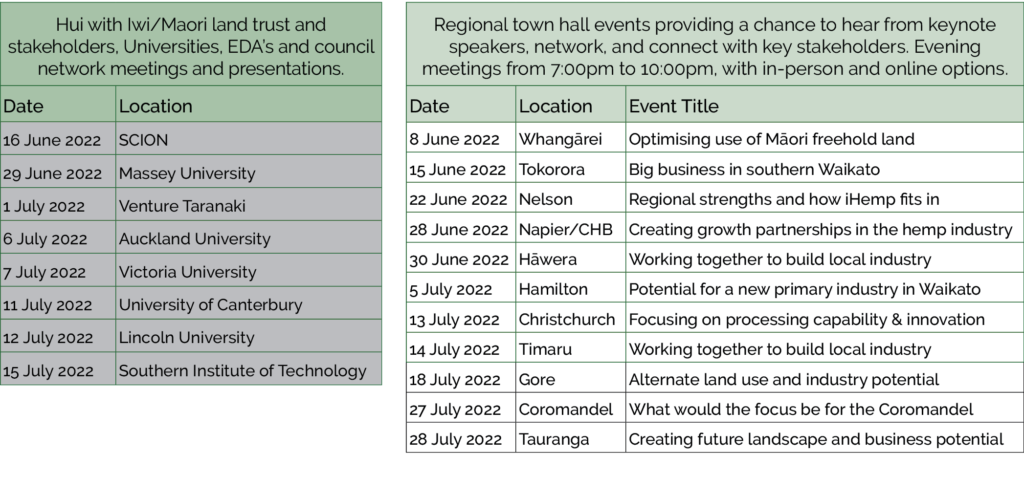 ---
NZHIA Blog: iHemp in the Clothing Industry
What are you wearing? Is it comfortable? Great. Do you know what it is made of?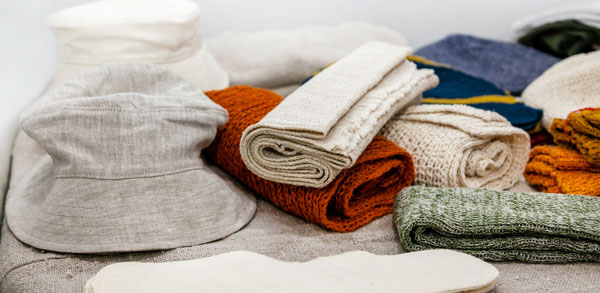 Our clothing consumer decisions support the industries who produce these items – do you wish to support the production of more chemical fed petroleum-based fibres or promote the production of natural sustainable materials?

Read our most recent blog: iHemp in the clothing industry to learn how you can support NZ hemp businesses who are making change in the industry.
---
Member & Public Newsletter Distribution Updates
To better align with our Executive Board meetings, the monthly newsletters will now be published bi-monthly beginning in April 2022.
As ever, we strive to keep our members and the industry up to date on any relevant news, updates, or industry developments, so these will be provided to you as mid-month updates as and when required in Member or Association announcements.
---

iHemp industry news from New Zealand and around the Globe.
Hemp: The Brothers who want you to make 'marijuana's cousin' part of your diet Read more via Stuff
International hemp federation announces interim board, and an ambitious mission Read more via Hemp Today
US Hemp Building Association: ICC Committee Action Hearing for Hemp-lime Construction Read More +
Hemp Today: Australian state to review Industrial Hemp Act as stakeholders say rules are too strict. Read More +
Hemp Gazette: Missouri Awards Hemp Fiber Processing Grants. Read More +
---

The NZHIA website www.nzhia.com is an information resource for members, hemp enthusiasts and those curious about the industry. You'll find information on:
---